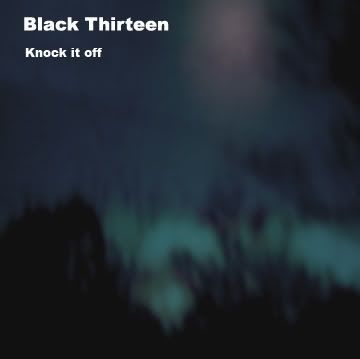 Hello,
Here is an interesting album for you. If I remember correctly this was Black Thirteen's first attempt at what might be considered a more traditional "band" setup: one with guitar, bass, drums, and keys. This is also, I believe, Travis "TK" Knowles' first Black Thirteen appearance. For those of you who don't already know Travis is an incredible musician whom I have had the pleasure of playing with in many different settings and bands, his music can be found
here
.
So all in all this album features Black Thirteen regulars Simon Sharp, Wesly Rose, myself (Ben Collins) and TK. With the expanded setup we chose to play in Wesley's garage, going on the idea that his parents "wouldn't give a shit". A half hour into the session we found out how much of a shit they did in fact give, (an exchange that can be heard at the end of the second track) and we decided to take a few instruments and go into the woods where we hopefully wouldn't bother anyone.
As a recording engineer I apologize for some of the sound of this record, it was a new setup that I had never tested and in some cases the levels were not what I expected them to be. As a player however I think this record is very rewarding. So often we talk about improv music putting us in spaces that we are unfamiliar with and so often this is not exactly true. And although I had played with all these dudes before this session, this exact group had never played together before and I really don't think any of us had any real idea of what it would sound like.
As a listener I will say that probably the most interesting aspect of this record is how the changing location effects the music being played, specifically in how when we are in the garage we are playing more instrumentally and when we move into the woods we resort to more vocal driven music.
So, if you will, join Black Thirteen on this improv journey, see if you are as surprised as we were when you hear where we arrive.
Credits:
Simon Sharp: guitar tracks 1, 2; Lead Vocals and stuff tracks 3, 4
Wesley Rose: bass track 1; guitar tracks 2, 3, 4; vocals 3, 4
Travis Knowles: keys track 1; bass track 2; keys and vocals tracks 3, 4
Ben Collins: drums all tracks, vocals and other stuff tracks 3, 4
recorded by: ben collins, all music freely improvised by the four players.
DOWNLOAD