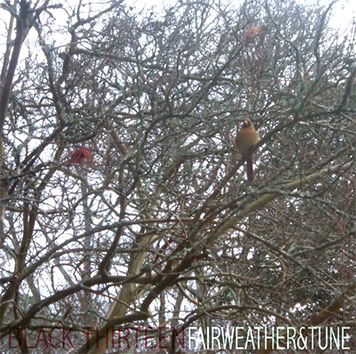 Hello again,
Today I have an interesting Black Thirteen album, or albums called Fairweather&Tune. It actually is two albums but they were recorded two days in a row and on the same minidisc, so upon playback they felt like one album and so they are presented here separate but together. They are intended to be listened to as either a one album or two, it is completely up to you.
Both feature the same lineup of Wesley Rose, Simon Sharp and Ben Collins (me) which is quickly becoming the standard Black Thirteen lineup, and I'm totally fine with that.
We are in top form on these discs. If I remember correctly these were recorded in spring of 2007 and at that time we hadn't recorded in a month or two so we were pretty keen to get some stuff out of our collective system.

Fairweather
features both Simon and Wesley on guitars the whole time with me playing a drum and a recorder for some of it until eventually forsaking them for an acoustic guitar as well.
And
Tune
features all of us on acoustic guitars.
We are happy with these and somewhere I have video footage of us playing Fairweather, so maybe that will be posted as well one day.
download