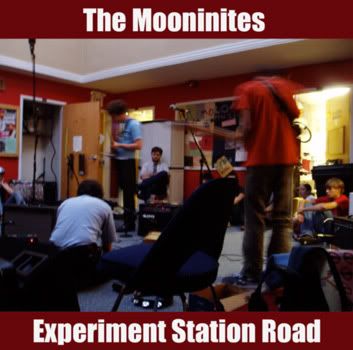 So by now we all know about The Mooninites, (Three dudes, I'm one of them, along with Zach and Travis) if you don't know of our thrilling history check out the older posts. Anyhow, since I've been traveling basically backwards with my posting of Mooninites albums I'll explain that this is pretty much the second thing we ever did. The story, as I understand it is that we had made this one record and Zach played it for his friends at school (UGA, go dawgs!) most notably Lars Gotrich (or Thor, as we know him now) and Lars who ran the local music show, invited us to play at his "Live in the Lobby" event, where a bad would come to the station and, obviously, play in the lobby. Now at this point we had never had an official show (there was an unofficial show, which was videotaped and could maybe maybe be posted at some point) and we didn't really know how to go about doing one. So somewhere along the line we decided to just bring a bunch of instruments and "see what happened". We didn't even know the word "improv" at least not outside of the context of comedy, so we didn't know what we were doing.
So we loaded up the cars and drove to Athens to meet Zach at the station and play. On the way there Travis rear-ended me, (I was driving Simon Sharp's car, which to this day has a trunk that doesn't operate correctly.) and when we after the cops came and left we saw that we had wrecked at the intersection of "Experiment Station Road", so later we named the record after that.
When we got to the station there was little time for any kind of explanation or sound check or anything. We explained to the engineer, Miles Styer that we would just set up a bunch of stuff and sort of move around the room playing each thing at different times and volumes.
And then we played for about a half hour. Joe McNeill was present as were about twenty or so UGA students, all sitting in chairs or on the floor around us as we played. At times the music became incredibly loud and I actually think Joe was the only the one in the audience not covering his/her ears at some points. It got quiet at the end and Zach coaxed everyone into clapping along on the last bit.
The session was broadcast live, recorded somehow and was given to us on a CDR. Upon listening to it we realized that due to loudness of our playing they had turned the master volume down considerably, presumably to control it for the broadcast, which significantly altered the listening experience, making the loudest parts of our playing actually the quietest parts of the recording.
After I posted "Let's Melt Snow" a few months back and this recording was mentioned I revisited it and set about re-mastering it with the goal of at least glimpsing the volume and (dare I say) Power of the actual performance.
So here it is, six years later and I think it's a pretty okay little record. It has an earnest enthusiasm for the playing of weird music that I very much respect and admire now. Were we the masters of experimentation that we wanted to be? Of course not, but we had fun and made some decent music so it shouldn't really matter.
Credits:
Zach Smola: Primary guitar, tambourine
Travis Knowles: Bass, SK-1, organ
Ben Collins: Drum loops, Korg Synth, feedback guitar
(Acoustic Cigarette: Joe McNeill and Simon Sharp)
Engineered by Miles Styer
Produced by Lars Gotrich
Mastered and Edited by Ben Collins
Get it
HERE
Update: I now know for sure that the photo was taken by Erin R. White, thanks Erin.