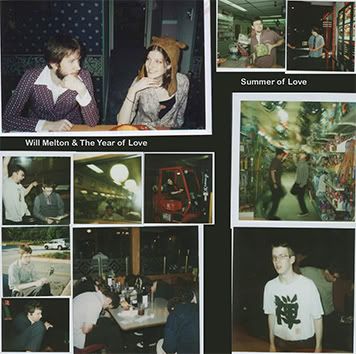 Okay, I am very pleased to tell you all about this album. If any of you have heard this before then I'm sure you have fond memories and if you haven't ever heard it then you have fond memories ready to be made.
Oh but before any of that:
POP, POP MUSIC, THIS IS POP MUSIC
NOT drone, noise, improv, folk, metal or any of it.
POP POP POP
I just wanted to draw the distinction, because it is very different than much of the other music that I have given to you on this site.
I am calling this an album, but actually it was originally given to me by Will Melton as a random collection of music he had made that he was happy with. I don't know that the track listing or thematic shifts were really in the forefront of his mind when he sequenced he whole thing, but over time, the more I listened to it in this order, the more I started to think that there was a sort of "Faust Tapes" or Guided By Voices "Bee Thousand" charm to all the short, possibly unrelated songs.
So what this collection consists of are various recordings made between apx. summer of 2002 and I think summer of 2004. All of the music is basically written by Will Melton, who plays all of the piano and midi elements, he also write sthe lyrics on many of the songs and frequently sings lead and backing vocals (listen to the track "Tomorrow Girl" to hear him doing everything). But often, as you will hear, there are guest musicians guest vocalists and guest lyricists. I'll go and a limb and say that the most notable of the guests are Luke Piotrowski and Stephanie Clayton.
Luke sings lead vocals and writes lyrics for roughly ten of the songs, his are the songs frequently about monsters and marvel comic characters, (listen to "fairy brothel" for his crowning achievement.)
Stephanie, some of you might know, is half of the thought-entity known as Telenovela. I think she plays or sings on five of the songs here and I'll tell you that I think all of her stuff is pre-Telenovela, (but still not the earliest Stephanie recordings that I am aware of.)
Other guests include: Joe McNeill playing acoustic guitar (AND SINGING!) on a few tracks, Simon Sharp singing on a few tracks, Travis Knowles playing bass and possibly drums a few places, myself playing drums on one track and guitar on another, Missy Piotrowski singing backing vocals and Rachel Nelson singing on one track.
This is fun music, it is sad music, it owes a big debt to They Might Be Giants and any piano-pop you can think of. It is a good introduction to the rich musical world of Will Melton and I urge everyone to give it a few listens.
download
A note from the editor: I think I was reaching a little with this album cover, if I find a way to improve it I will take this one down and post up a better one.